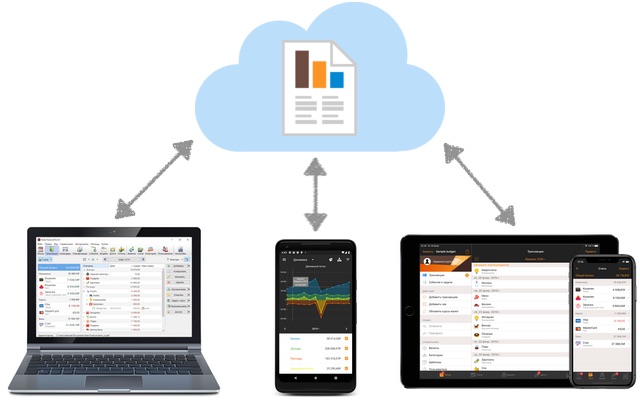 Several users can work with a single database file simultaneously. Changes, made from different devices, will be merged in one file.
Automatic sync
Enable automatic synchronization in the app settings. This will open your browser where you should enter your Dropbox account details (if you don't have an account, you can create one for free), then click "Allow" button to connect the database to Dropbox. Now send the database file to your family or colleagues (e.g via email). All changes they're making in their copy will appear on your computer within a few seconds and vice versa.
Sync works via Dropbox cloud service. Each database file must be connected to Dropbox separately, so you can use different accounts for different files. If you don't have account, you can create one for free. It's not necessary to install Dropbox app on your phone or share your Dropbox account password.
Sync via iCloud
Put your database file into iCloud Drive and all changes you've made will appear on other devices and vice versa: changes are made by other users will appear in the program within a few minutes.
To share a budget with family or colleague click "File" - "Share", then "Share file". The file will appear in the other users iCloud and they'll be able to make changes (if allowed) and see the changes are made by other users.
To work with the database file on a Windows PC simply download and install iCloud Drive app for Windows and cloud contents will appear on your PC as a common folder. Then download and install Alzex Finance for PC, find your file in the cloud and open it (double click or main menu File - Open).
Share a budget via other cloud services, local network, own server, etc.
You can simply put your file in any cloud or shared network folder and work with it from several devices simultaneously.